Description
When off-roading Jeep owners modify their axles for even better performance over rocks, across sand, and through mud, Dana takes notice. The Ultimate Dana 60 axle incorporates many of these modifications and innovations, so you get premium performance right from the start. Engineered to be a direct-fit, bolt-in solution for the Jeep Gladiator JT, Ultimate Dana 60® axles are built for superior strength inside and out.
What makes the Dana 60 the ULTIMATE axle choice is a combination of parts that they have put together, such as thicker axle tubes. Genuine Spicer® nickel chromoly axle shafts. Heavy gauge rackets. And the largest, strongest u-joints you can get without a prescription. That's just the beginning of the upgrades we've engineered into the Ultimate Dana 60™ axle—and that's why it's the first choice of hardcore Jeep Wrangler off-roaders everywhere. Get performance that's optimized for lifted vehicles and larger tires, and get the competitive edge over even the most rugged terrain.

Engineered to Ensure Optimal Strength and Durability
The full-float design of the Ultimate Dana 60 axle means that the vehicle weight is carried by the housing instead of the shaft. So, you can enjoy a greater load-carrying ability wherever your Jeep takes you. The Ultimate Dana 60 axle features Spicer® 35 spline SAE-4340 nickel chromoly steel axle shafts to help meet the rigors of off-road, providing maximum strength and durability for vehicles with larger tires.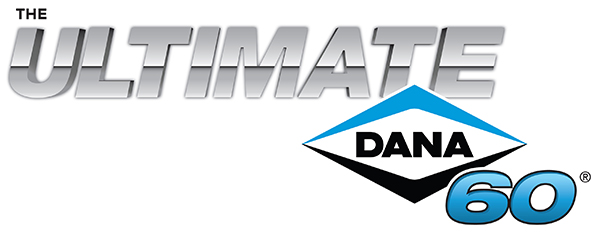 Ultimate Dana 60® axles are designed to give you an advantage across even the most brutal terrain:
Spicer® 35 spline SAE-4340 nickel chromoly steel axle shafts
Axle tubes: 3.5" outside diameter/.370" (front) or .390" (rear) wall thickness
Spicer® ring and pinion gearing: 10" (256 mm) on front axles and 9.75" (248 mm) on rear
Genuine "Made in the USA" gearing
Heavy-duty 8" x 6.5" wheel bolt pattern
Nodular iron diff cover
Selectable electronic locking differentials
Heavy-duty brackets
Spicer® 1350 strap-style/half-round end yoke
Upgraded heavy-duty brakes with plug-and-play ABS system
Dead spindle design (front)
Massive Spicer® SPL®-70 u-joints—exclusive to Dana (front)
Upper and lower control arms in same location as OE (front)
Warn® 35 spline hub locks (front)
View All
Close