Description
The My Medic Myfac is the best first-aid kit on the planet! Equipped with life saving supplies, so you feel prepared, protected, and confident.
The Advanced MyMedic MyFAK first aid kit can be used for emergencies anywhere— A day at the park, a multiday backpacking trip or an off-road adventure on the trails.
The Myfak includes expert-picked supplies for bleeding, airway, burns, hydration, meds, sprains & fractures, outdoors & topical items. With over 100 quality first-aid and trauma supplies, the Myfak trauma kit is a must have for the avid outdoor adventurist and weekend warrior.
The tear away pouch can also be used as mini first-aid kit.
MYFAC KIT INCLUDES:
BLEEDING:

Rapid tourniquet (Advance)
Micromend cut kit
Quick Clot (advance)
Pressure bandage
Secure strip
Non adherant pad (Advance)
Small gauze pad
Large gauze pad
Small bandage
Fingertop bandage
Large bandage
Knuckle bandage
Knee/Elbow bandage
Liquid Skid
Gauze roll

BURN:

Burn shield gel
Burn Shield

MEDICATION:

Tylenol
Benadryl
Pepto Bismol
Advil
Bayer (Advance)
Dramamine (Advance)
Amonia Wipe (advance)

OUTDOOR:

Whistle
Survival blanket
Paracord (Advance)
Superskin
Glowstick (advance)

TOPICAL:

Antibiotic ointment
Anti itch cream
Lip balm
Oral pain releif
Sunscreen
Petrolatum
Sting releif wipe
BZK Towlette
Hand sanatizer
Alchohol prep pad
Povidone prep pad (Advance)
Saljet
Dynalube (Advance)

AIRWAY:

Chest seal (Advance)
CPR Shield
Nasal airway (Advance)

HYDRATION:

STRAIN & FRACTURE:

Elastic bandage
Finger Splint
Triangular bandage

SPECIALTY:

Scalpel blade (Advance)
EMT shears
Scalpel handle (Advance)
Scalpel blade (Advance)
Thermometer
Tweezers
Nitrile gloves
Pen light
Surgical tape
Surgical Scissors (Advance)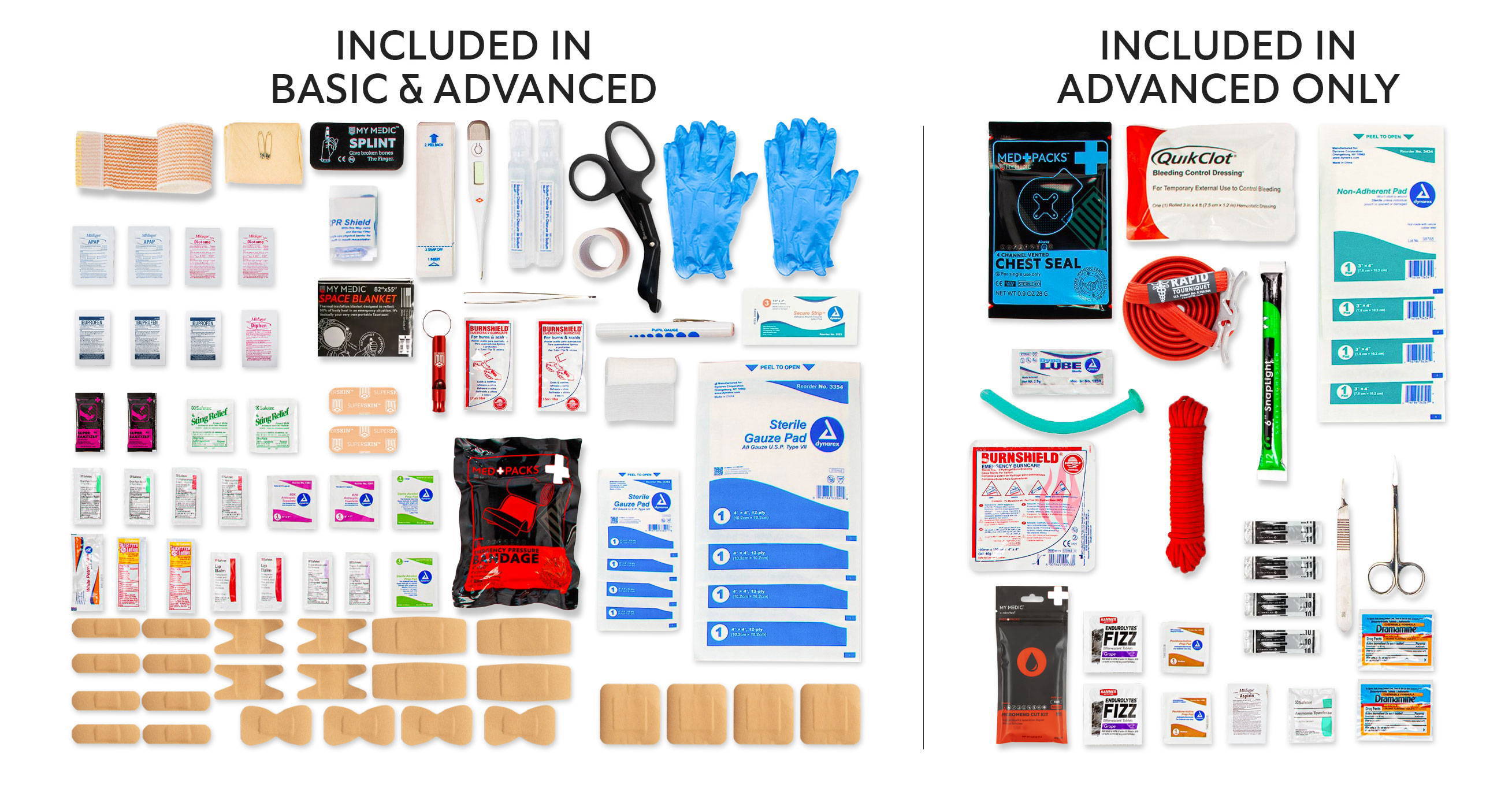 Supplies in kit are selected based on data about the most common injuries that happen at home, at work and outdoors
Comes in a either a hard, waterproof case (Clear colorway only) or a lightweight, water-resistant soft case
Latex free
TSA-approved for carry on
View All
Close