Embark on an unforgettable camping adventure with the Desperado rooftop tent, your ultimate companion for a comfortable and stress-free outdoor experience. Designed to make setting up camp a breeze, the Desperado's swift setup process will have you settled in under 30 seconds, giving you more time to savor the great outdoors.
Step inside the Desperado and discover a haven of comfort, packed with premium features that create a cozy home-away-from-home atmosphere. Boasting ample space to accommodate you and your equipment, this rooftop tent redefines the meaning of relaxation.
Experience the luxury of the Desperado's plush foam mattress, crafted to provide a rejuvenating sleep after a thrilling day of exploration. Whether you're journeying solo or hitting the trails with your loved ones, the Desperado rooftop tent has got you covered.
Elevate your camping escapades and embrace the great outdoors with the Desperado rooftop tent – the ideal choice for adventurers seeking unparalleled convenience and relaxation.
The Desperado is the ultimate adventure rooftop tent for anyone seeking a comfortable and hassle-free camping experience. Setting it up is super easy and can be done in under 30 seconds, allowing you to spend more time enjoying your trip. Once inside, you'll find that the Desperado is exceptionally comfortable, with premium touches that make it feel like a home away from home.
SHOP NOW: Roam Adventure Co Desperado Hardshell Rooftop Tent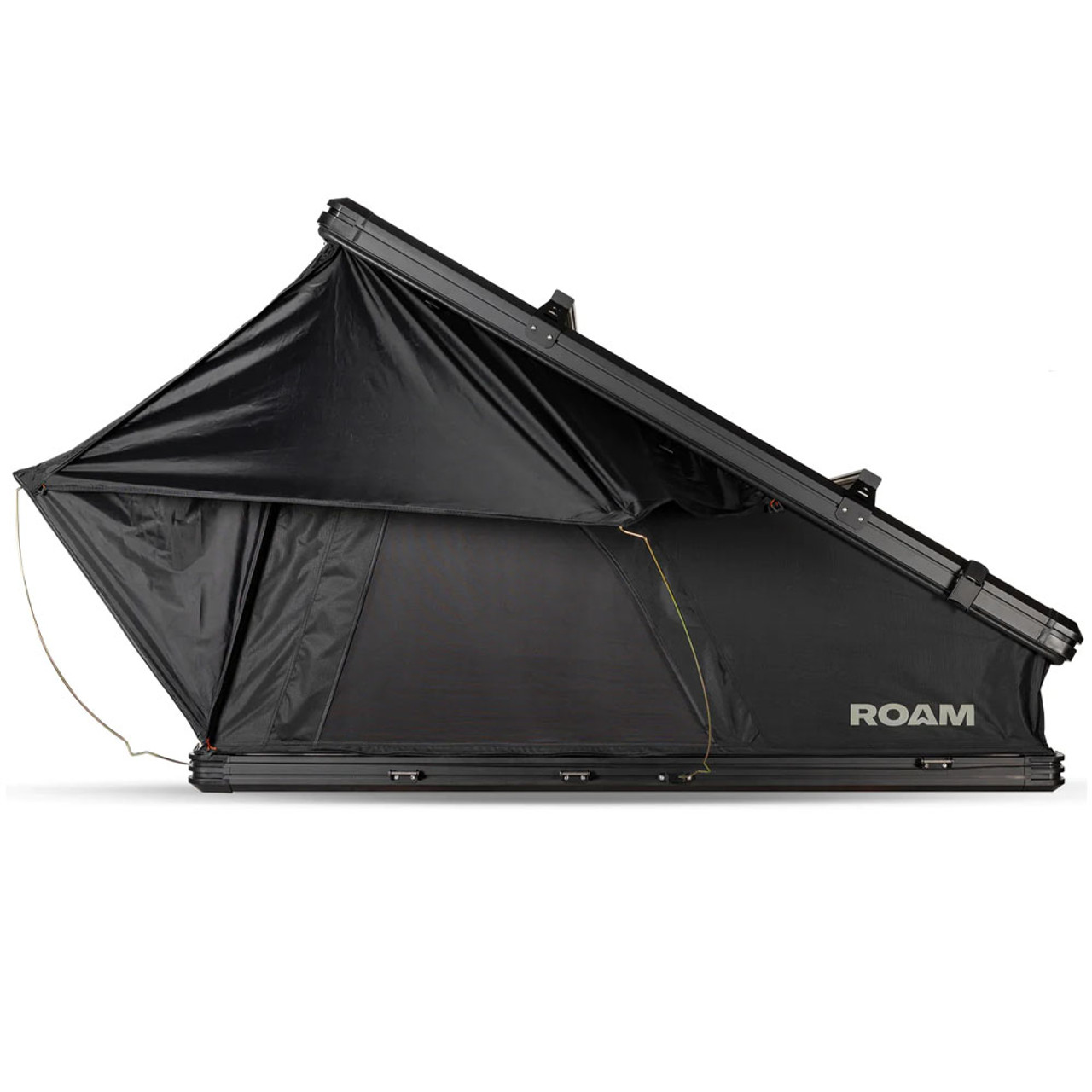 The spacious interior provides plenty of room for you and your gear, while the comfortable foam mattress ensures you get a good night's rest after a long day of adventure. Whether you're embarking on a solo adventure or heading out with family and friends, the Desperado rooftop tent is the perfect way to elevate your camping experience.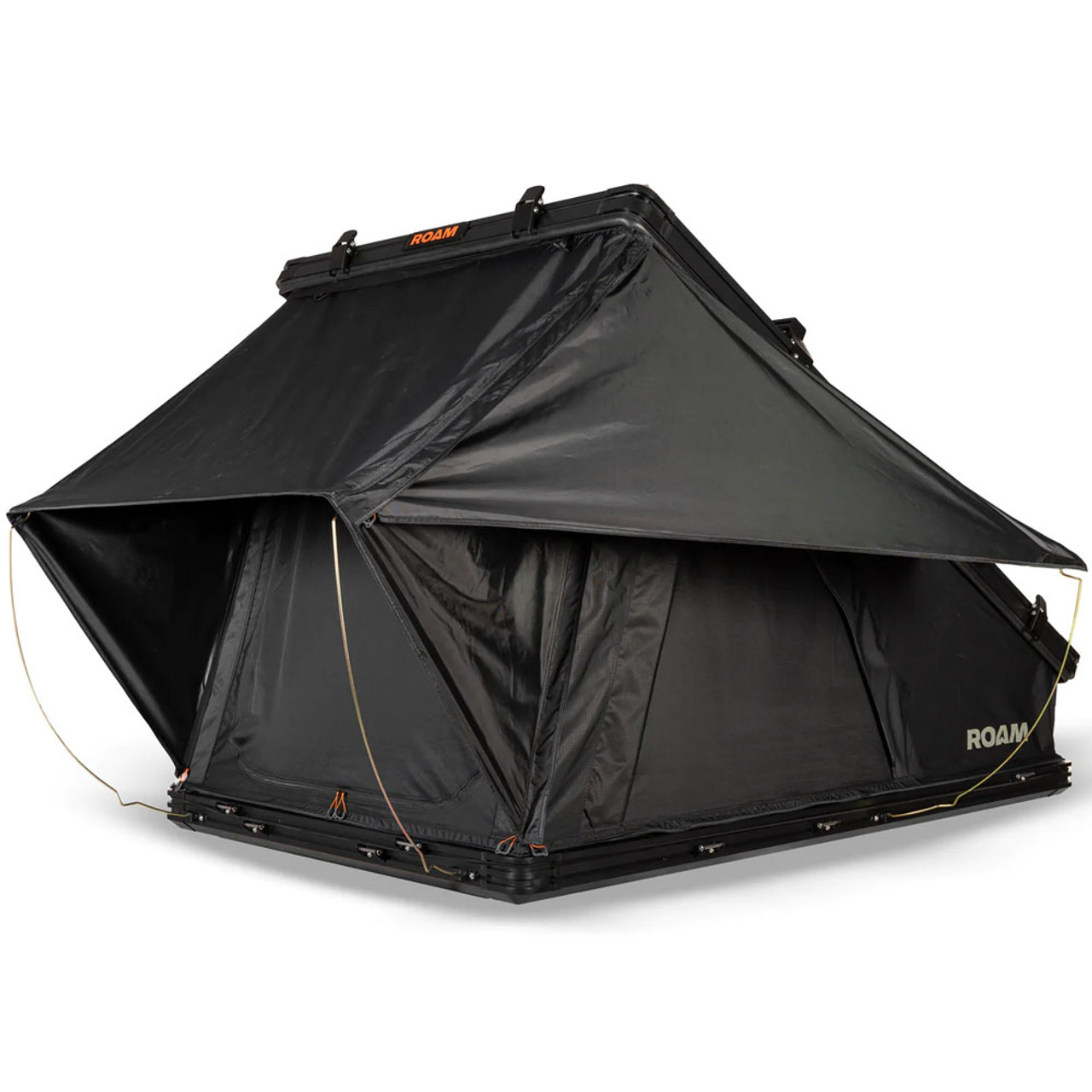 MOST COMFORTABLE HARDSHELL RTT MATTRESS
Camping doesn't have to be roughing it. Sleep on a mattress that is comparable to your bed at home. A 2.75" inch high-density foam mattress makes your nights sleep in the woods feel like a 5-star hotel.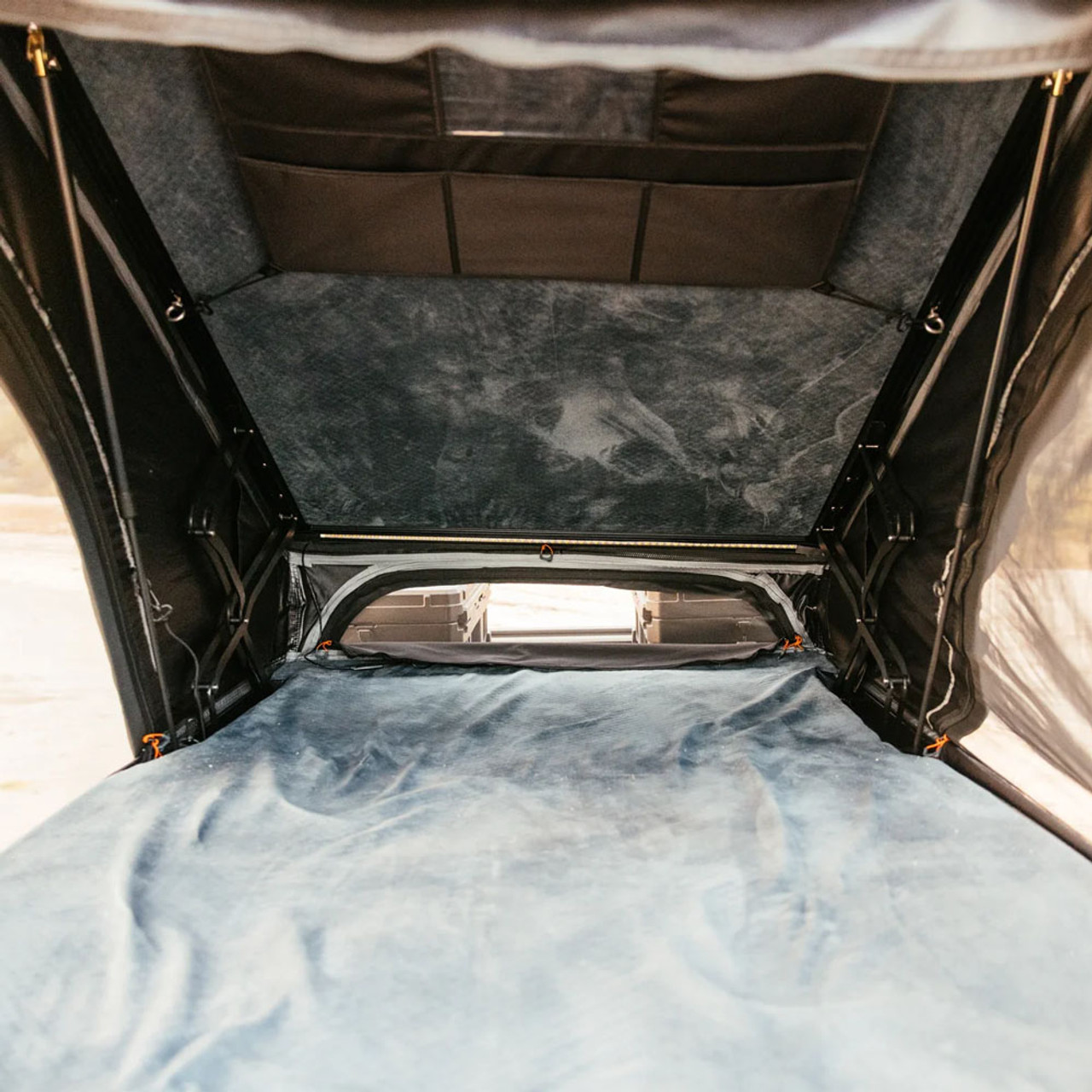 INCLUDED LOAD BARS
You don't have to leave your gear behind when you have a rooftop tent mounted on your vehicle. The Desperado rooftop tent comes equipped with a set of load bars that enable you to secure Rugged Cases or adventure gear to the top of your tent.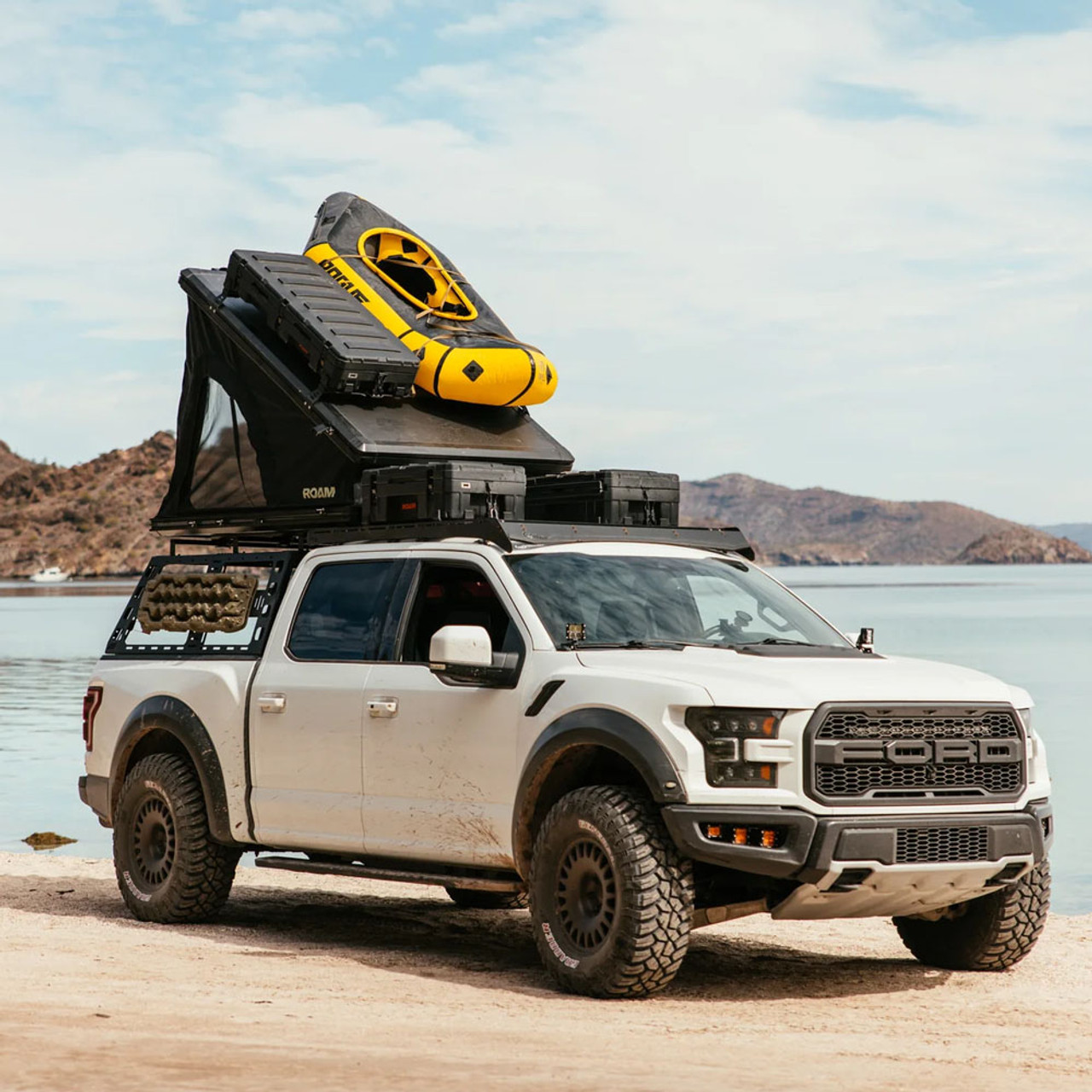 STORAGE AND MEDIA ORGANIZATION
Having space in your tent is crutial. We have included an overhead organization panel for your smaller items as well as external boot bags to keep your tent clean. The overhead panel also has a clear material pocket designed to hold a tablet or phone for bedtime movies.
WINDOW & DOOR AWNINGS
We've added awnings to each zippered door openings. This helps keep the elements off of the door and gives you a sheltered place to enter the tent. The awnings are also removable if you want to keep your tent setup minimal.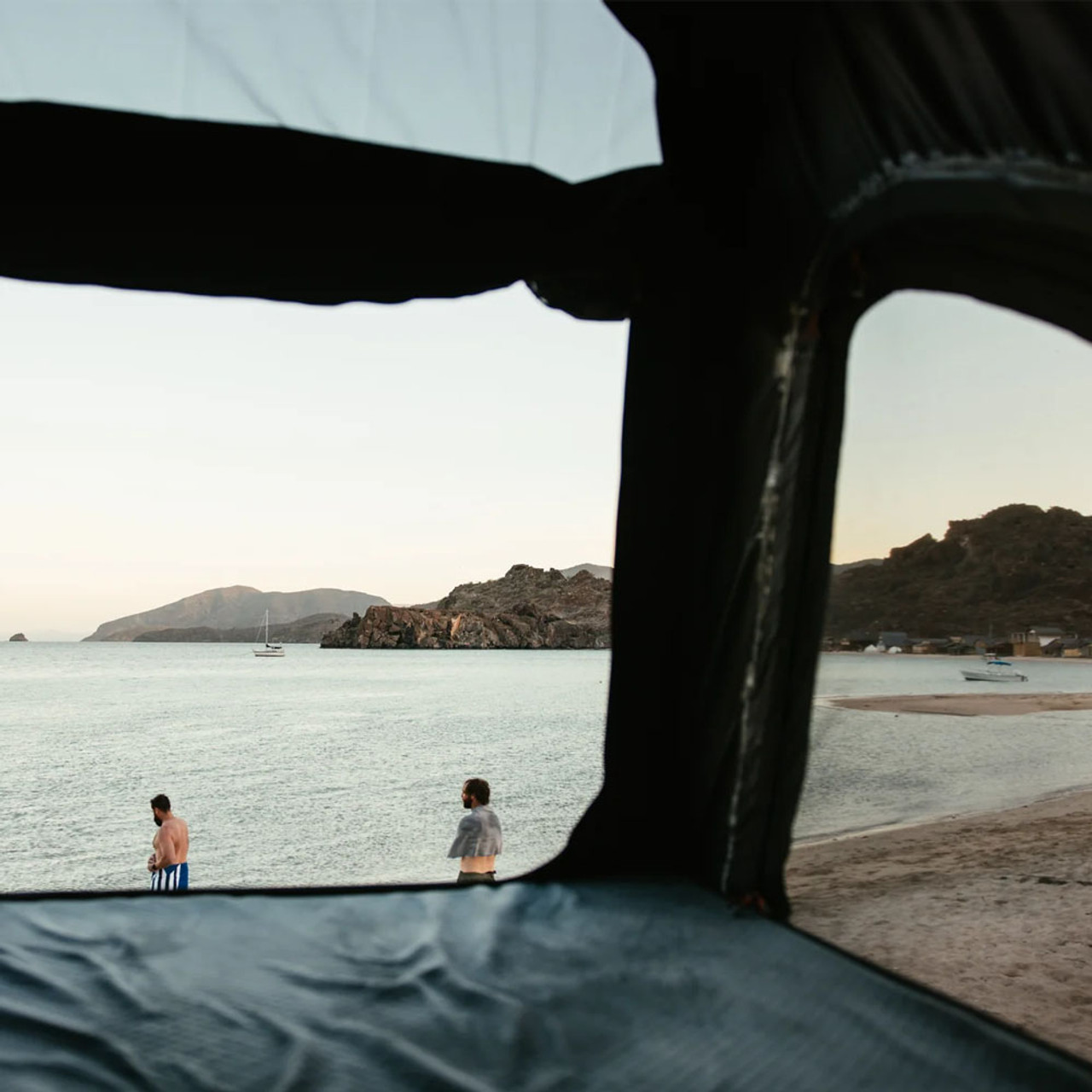 LED LIGHT STRIP
Having a little bit of light in your tent at night makes things so much easier. We have included a LED light strip that you can just plug into any of your battery banks for lights. *batter pack not included.*
BOOT BAGS
Included with your Desperado is a boot bag that slides into the channel under the tent so you don't have to bring your dirty shoes inside.
ARTICULATING HINGE
A-frame tents typically don't have a lot of room at the foot of the bed. We used an internal articulating hinge that gives you an extra 10" of foot space so you don't feel cramped.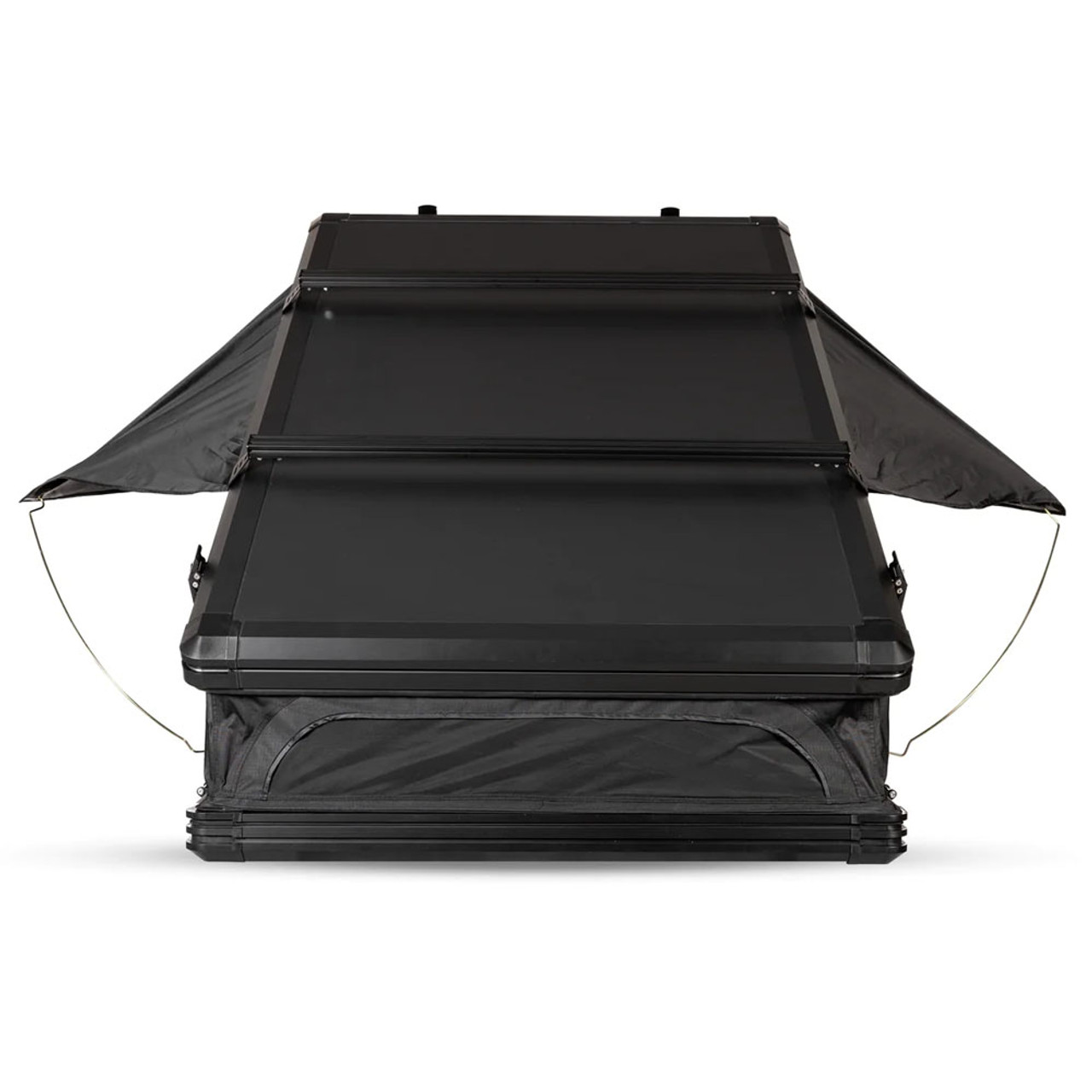 TENT SPECS:
WEIGHT
180lbs
SHELL SIZE (CLOSED)
82.5"L x 51"W x 10"H
MATTRESS DIMENSIONS
80"L x 49"W x 2.75"H
FABRIC
420D polyester oxford, UV, water, and mold resistant
LADDER
7.5' telescopic aluminum (no additional extension required for aftermarket lifts)
MATTRESS
2.75" high density foam, anti-condensation mat
SHELL CONSTRUCTION
Aluminum
INSTALL
Attached via aluminum extrusions on base with universal sliding brackets and bolts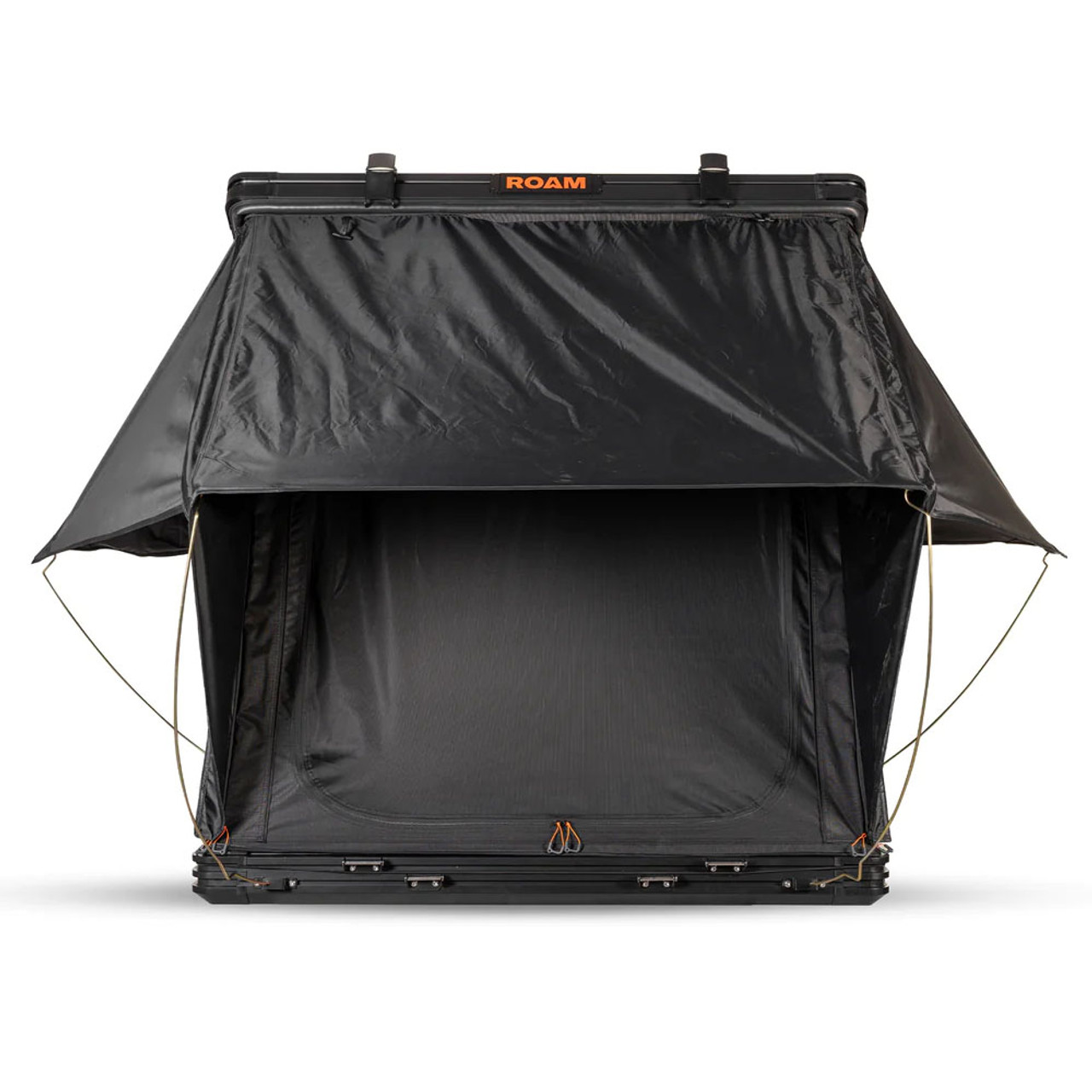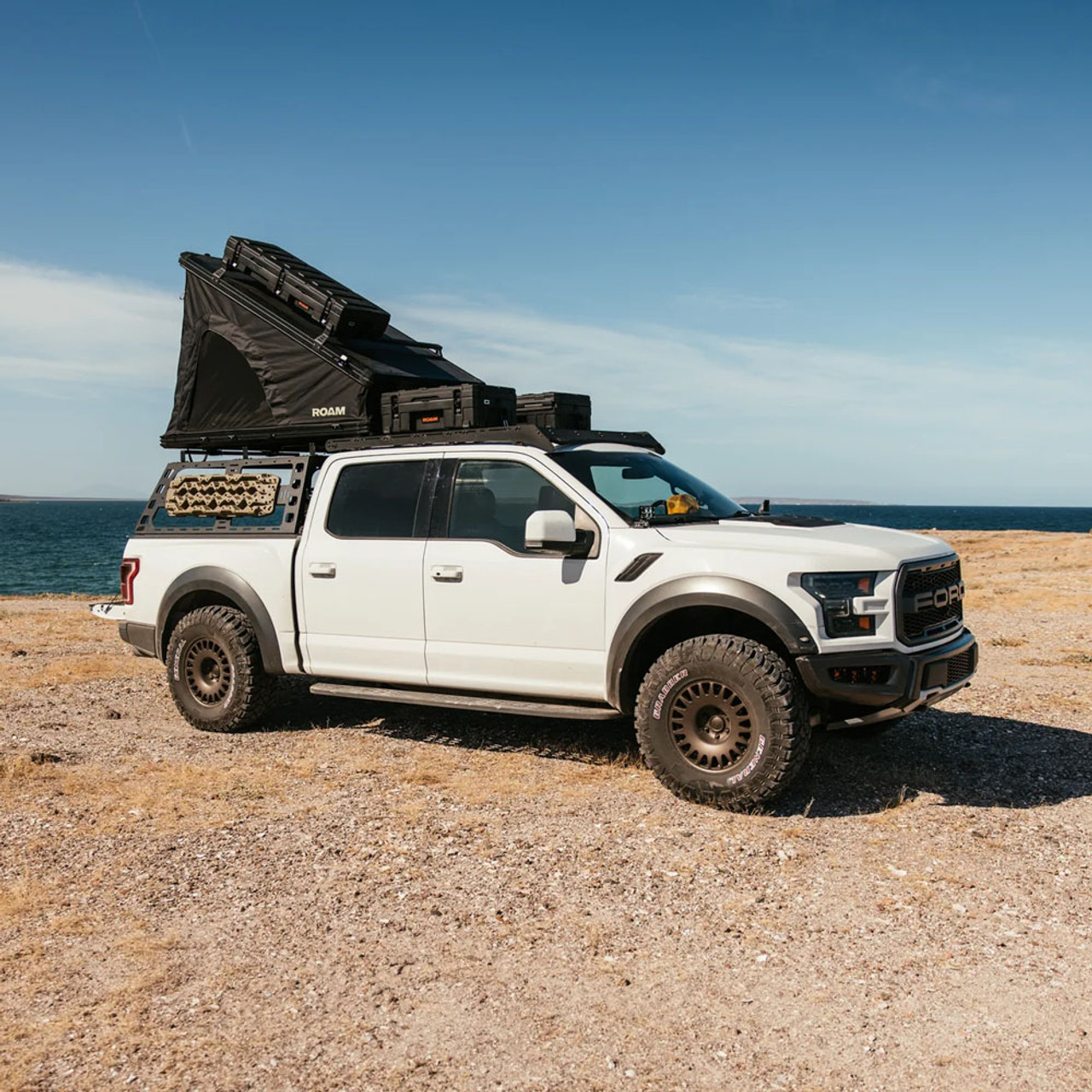 Recent Posts
We hope you're excited about the warmer weather and ready for an action-packed summer!! We have som …

Tools Needed:7/16 Wrench/Socket1/2 Wrench/Socket9/16 Wrench and SocketRatchet5/32 Allen Wrench/Socke …

When it comes to engineering off-road marvels, Rebel Off Road is no st …