Description
The RECON DSS (Dual Shock System) is a complete 12" coilover & bypass shock conversion kit that makes it easy and worthwhile to convert your Jeep Wrangler JK from traditional coil springs to full coil-overs.
Our kit works with any manufacturer's coil overs but we recommend our SPEC tuned King Coilover/Bypass shock which provides incredible durability and performance. Every kit comes complete with upper mounts and lower axle brackets that will position your aftermarket shocks correctly (compared to factory shock location), as well as all necessary hardware. (Extended brake lines are required)
Whether tackling the trails or daily driving on city streets, you'll find uncompromising confidence in our kit's ability to maintain success no matter what terrain they are put through.
King Racing Technology has partnered with Rebel Offroad to bring you the Recon Edition Coilover. The spring rate and valving are completely customized for your modified Jeep Wrangler JK. Bumpers, winches, larger wheels and tires all affect how your Jeep rides. We've taken all this into account and King got right to work. For the ULTIMATE ready to run Coilover and Bypass shock designed with high performance off road capability and a street smart/daily driver safe. Order your DSS kit today!
Recon Front Dual Shock System is a 12" X 2.5 Coilover and Bypass System.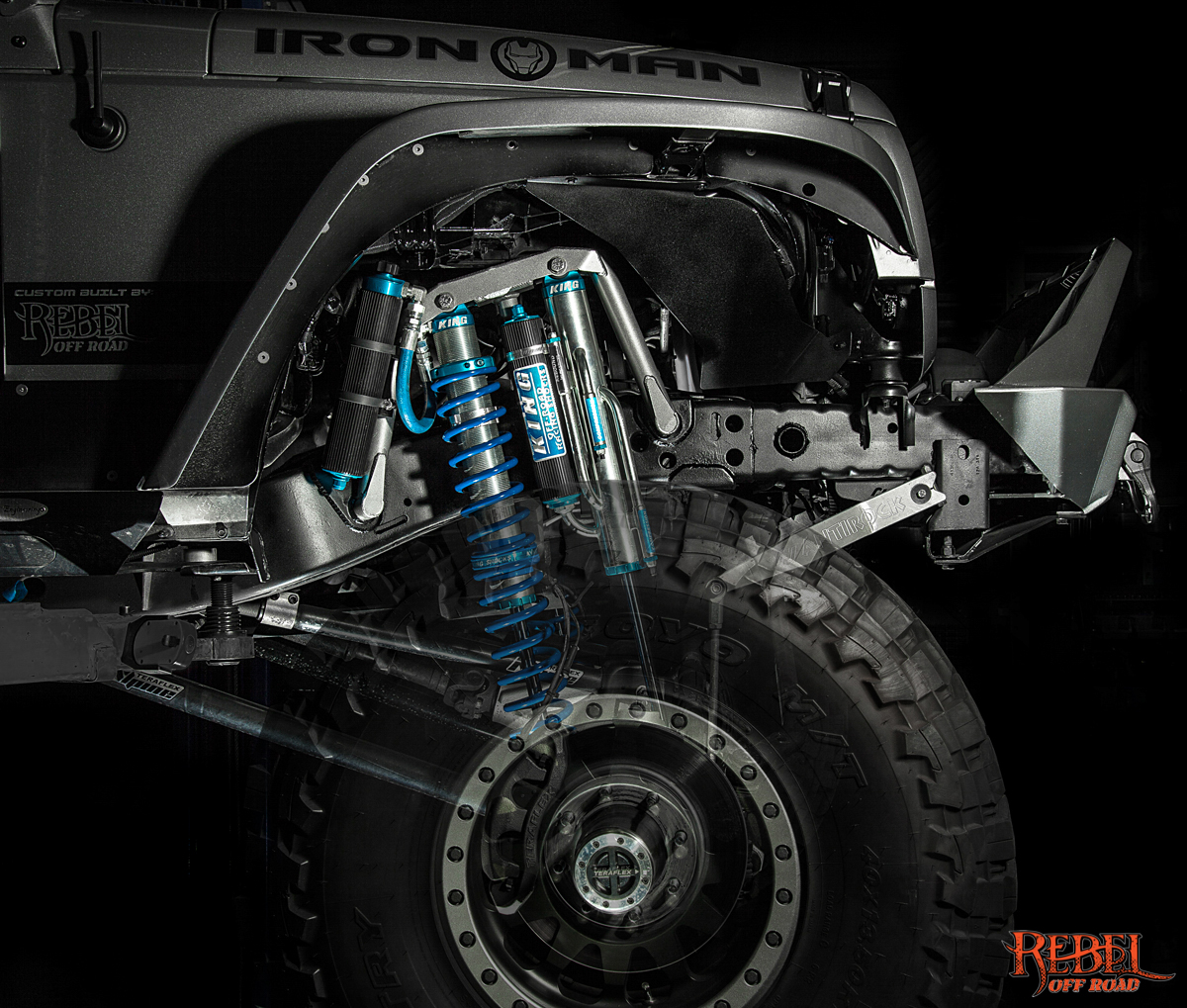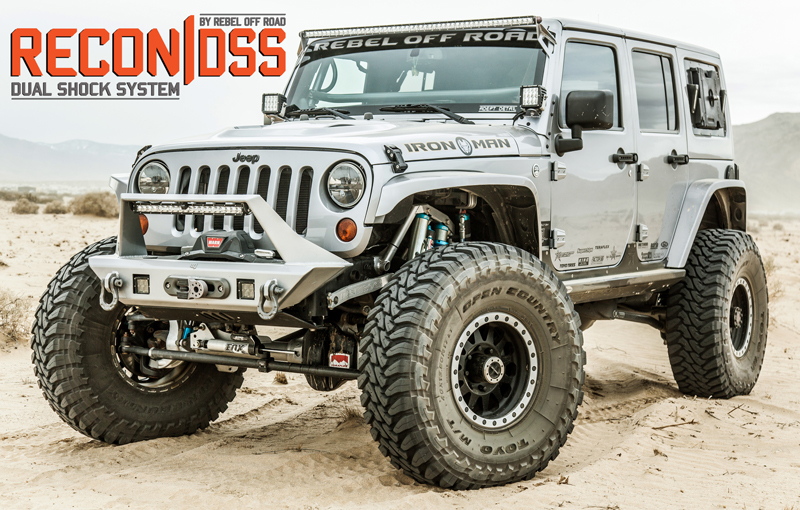 Includes:
Qty. 2: 2.5" x12" Coilovers
Qty. 2: 2.5" x12" 3-Tube Bypass
DSS (Dual Shock System) upper & lower brackets
All necessary grade 8 hardware
Specs:
2.5x12" Coilover with Remote Reservoirs
2.5x12" 3-Tube Bypass Shock Piggyback Reservoir
Tubing 120 Wall
Plating 3/16" Steel

Recommendations:
Extended Front Brake Lines
A Front Aftermarket Driveshaft
Aftermarket Fenders
Adjustable Control Arms
*Please allow an extra 2-3 weeks for black King Option on shocks

If you have any questions please give us a call. We'd be more than happy to help you build your new Recon Dual Shock System. To speak with one of our Build Specialists, call (866) 900-8841 or shoot us an email at info@rebeloffroad.com

Available for 2007+ Jeep Wrangler JK 2 and 4-door
Made in the USA
Lightweight hard anodized 6063 aluminum alloy shock reservoirs dissipate heat quickly and will not rust due to gas charging contamination.

Our own truncated thread design produces ultimate strength and trouble free spring adjustments.
Shock bodies are bored and honed after cadmium plating to ensure cylindricity and an efficient piston seal that enhances valve function.
Pinch bolt design offers superior clamping force to retain your coil preload adjustments without crushing the threads like set screw style collars do.
King coil springs are manufactured to our specifications in the USA using the finest quality, high tensile, chrome silicon wire available.
Spring rates, wire diameters and coil lengths have been developed through extensive real world testing on all types of terrain.
Composite coil sliders maintain proper spring alignment and silent operation.
Progressive dual rate spring applications use lockable secondary nuts threaded onto the body to allow precise adjustment of secondary spring engagement.
Heat treated stainless alloy valve shims do not fracture like plain carbon steel and resist deformation at high temperatures providing consistent fade free performance.
Wear bands are made from a Rulon composite that offers incredible wear resistance, low deformation under load and high compressive strength. Overlapping end design enhances sealing.
Special long wearing urethane seals have been tested on 18 wheelers for 450,000 miles without a failure.
Large 3/4" or 7/8" diameter shafts have a tensile strength of 100,000 pounds per square inch. They are hard chromed to combat rock bruising and micro-polished to a 6 RA finish for extended seal life.
Replaceable Teflon lined stainless steel spherical bearings will not rust and provide smooth articulation with no metal to metal contact.
High quality fittings are mated to Aeroquip high pressure hoses which resist abrasion and allow a tighter bend radius without kinking like braided stainless or cloth lines do.
CLICK HERE For Installation Instructions
Long Arm Required For Recon DSS Kit.
No Returns, No Refunds- All sales on this product are final:
This is a custom built item and orders cannot be canceled, returned or refunded once paid for.
View All
Close